what is a GMB PRESENCE exactly?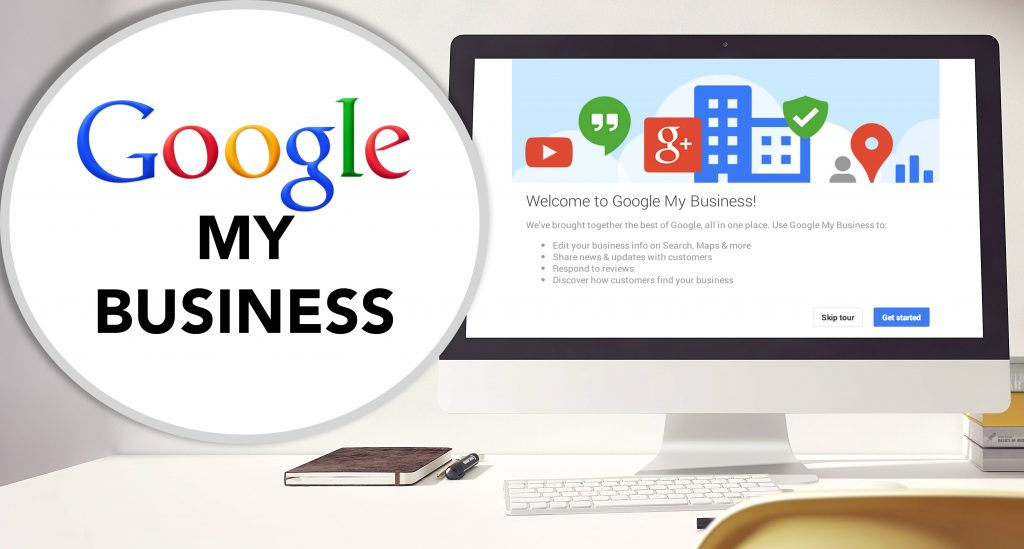 GOOGLE MY BUSINESS (GMB) is a 
simple and cost-effective way to make your business more discoverable
both online and in real life.

This comprehensive guide will show you how to
get the platform launched and optimized for your business immediately.
@ absolutely ZERO cost to you
But first, a quick anecdote about its utility. If you're in a hurry to get to the how-to, scroll down to the next section. Though, if you're a sucker for a good story, I suggest you keep reading…

Detroit is mesmerizing. It is mesmerizing in both lovely and unlovely ways. Three decades ago, the titan overlooking Lake Erie was a booming metropolis with over 1.2 million residents.

Unfortunately, after big car companies said 'sayonara,' Detroit turned into a ghost town practically overnight.

There's an incredible documentary, "Detropia," that explores the town's rise and fall.

The films tells of how after losing 25% of its population and 50% of its jobs, it was slowly rebuilding itself brick by brick through creativity and entrepreneurship.

I found the changes to be fascinating. So fascinating, I decided I needed to see the city's resurrection in person and took a trip.

Walking through the streets of Detroit presents the starkest of contrasts. On one street corner, you will see a great big abandoned building littered with boarded-up windows and crumbling grime covered brick.

And, directly beside it, you'll find a stunning newly-renovated factory repurposed to house a half a dozen or so flats, a coffee shop, a bustling bar and perhaps even a bowling alley.

One of America's first major industrial cities is now ironically dominated by small creative businesses that are pumping life back into the sleeping giant, one grand opening at a time.

But, in order for these small businesses to pull off this resurrection or resurgence or renaissance or whatever you want to call it… they must be discoverable.

In other words, customers have to be able to find them.

Something much easier said than done when you consider the city has 70,000 abandoned buildings, 31,000 empty houses, and 90,000 vacant lots.

And, not to mention, how do businesses achieve discoverability if they are already playing with one arm tied behind their back from a fiscal standpoint?

They can't throw up billboards.

They can't pay an SEO-wizard thousands of dollars a month.

Heck, some of them can't even afford to invest in a proper sign, instead settling for canvas that flails like a dilapidated flag in the wind.

For businesses in Detroit, Google My Business is helping them get discovered, stay seen, save big, and ultimately… stay in business.
.. and whether you live in Detroit or a small town in Southern England, Google My Business can drastically help you, too.
Why your business will need a GMB Presence
For those of you who've never heard of Google My Business (GMB for short), it's a free easy-to-use tool that allows businesses with physical retail locations to manage how they appear on Google Search and Maps.
There are a handful of reasons you need a Google My Business profile. Let's take a moment to discuss some of the biggest ones…
Google My Business makes it easier for customers to find your physical location
One aspect of Detroit that I found intriguing was the difficulty in finding various cafes, shops, bars, clubs and retailers. Some of them were deep in the basements of what looked to be abandoned buildings. Other's where hidden far back in shady alleyways.

And, with nearly 200,000 buildings and houses sitting empty, it was difficult to know what was open and what wasn't.

So, to combat this, nearly every business had a Google My Business profile. In fact, I didn't walk into one that didn't.

GMB makes it simple for customers to find the exact location of your retail location in Google Maps, not having to rely on dated word of mouth directions like…

"You want to take a right at this next light, go down three or four blocks, veer left on a street called Oak or Oath, one or the other, and it will be the brick building on your right."

Who can remember that?
Creating a Google My Business account can drastically increase your search visibility
Let's say you were to Google "graphic designers in Memphis, Tennessee."
On the first page of the Google search results, above the organic listings and paid listings, you will notice a high-visibility panel showing three local businesses matching your search.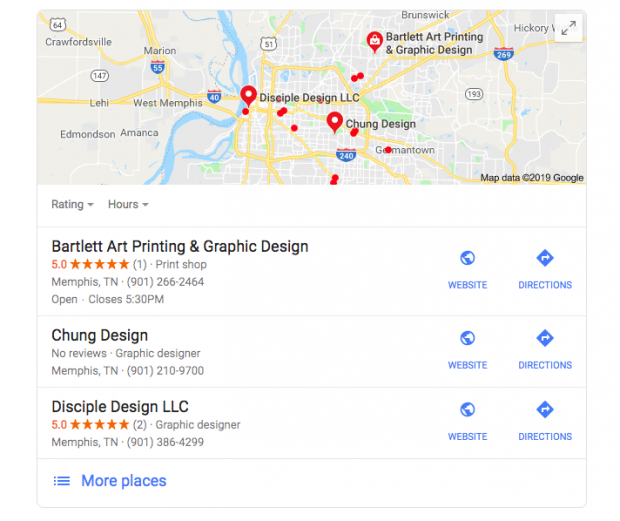 GMB doesn't just make it easier for customers to find you physically, but digitally too. It can vastly improve your search visibility in Google.
Not to mention, when prospective customers are looking for local businesses, they are generally ready to make a purchase (or at the very least are highly interested in making a purchase).
Folks don't Google, "delicious street tacos in Toronto" to read a blog about tacos… they do so because they're hungry and want to hand over their hard-earned money to whoever has delicious street tacos in Toronto.
If you're a local business, it's good to be seen when hungry customers are Googling.
Google My Business lets you display useful information and makes it easy for your customers to leave reviews
In addition to being easier to spot both physically and digitally, GMB allows businesses to add useful information like their name, what they do, their location, phone number, website, hours of operation and pictures.
GMB also makes it ultra-easy for customers to leave reviews and for businesses to manage the reviews that are left.
Whether businesses like it or not, customers will leave reviews if they have good (or bad) experiences. It's nice to have them in one easily manageable place where you can quickly respond in a professional manner.
A Google My Business account is completely free
Perhaps one of the best aspects of GMB is that it is completely free to use. That's right. It won't cost you a dime. If you are a business just getting your start in the local SEO game, GMB is an easy and extremely affordable way to get your toes wet.
don't feel like doing all the work yourself?
allow an expert to take over and get your business where it needs to be!
How to create a Google My Business account
Those are the reasons why you need a Google My Business Account, now let's talk about how to create one.
Step 1: Simply sign-in
Tap this pretty blue link or Google "Google My Business", once you arrive on the page hit "Sign In" in the upper right-hand corner of the screen.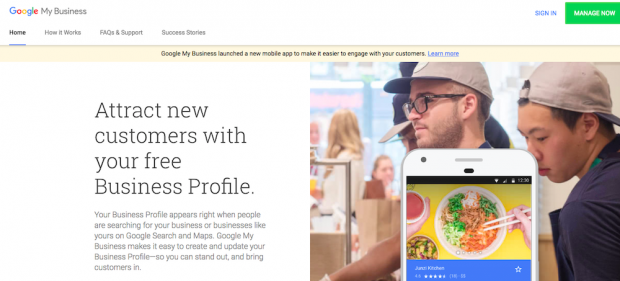 Step 2: Add your business name
Type in your business name and then hit Next.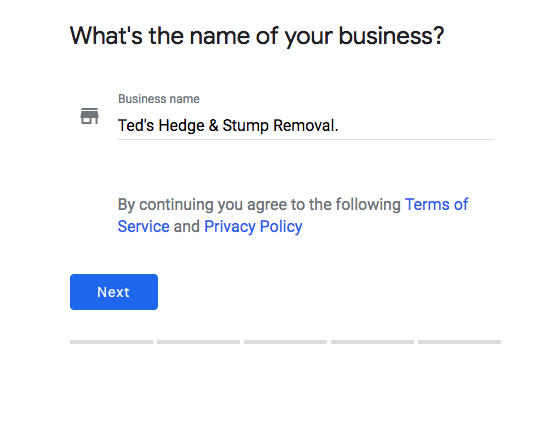 This is where things get exciting, take deep breaths to control heart rate.
Step 3: Tell people where to find you
You will be asked if you want to add a location customers can visit, like a store or office. If you would like to, you will simply hit "yes" and you will be taken to another window where you'll be prompted to enter your business's physical address.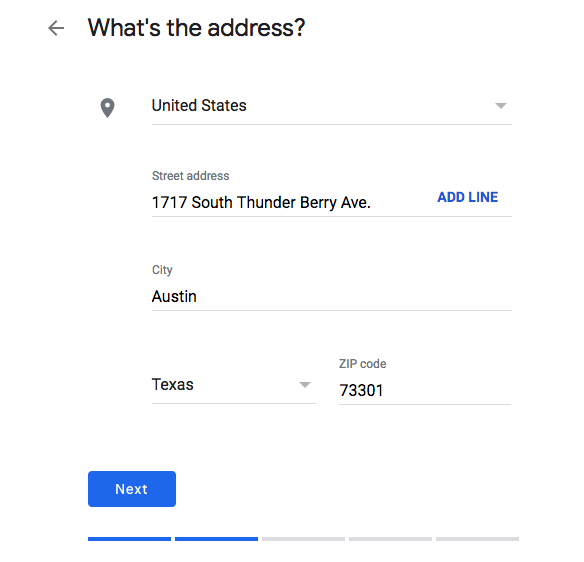 Step 4: Drag and drop to show your exact location
Sometimes, an address is not enough. Make it easier on your customers to find you by dragging and dropping the pin to your exact location. This will allow customers to zoom-in if they're feeling a little lost.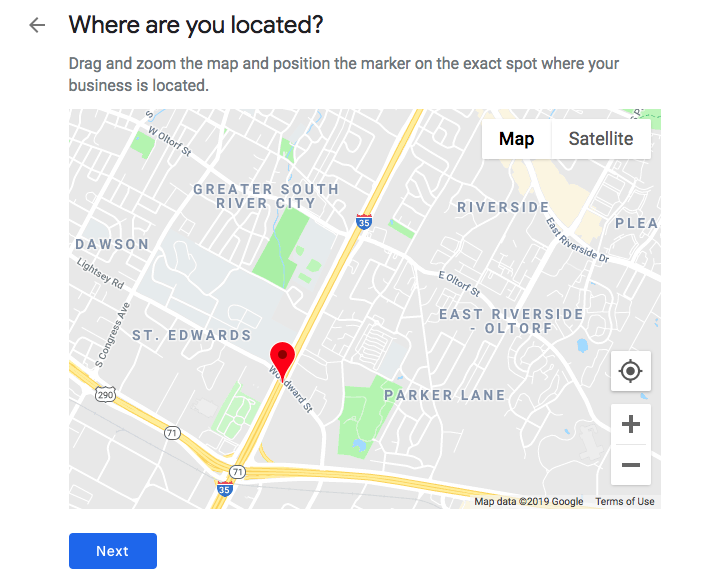 Step 5: Let your customers know if you deliver
If you offer delivery options, it's important to let your customers know. If you don't, simply click "No, I don't."
If you do, click "Yes, I also serve them outside my location."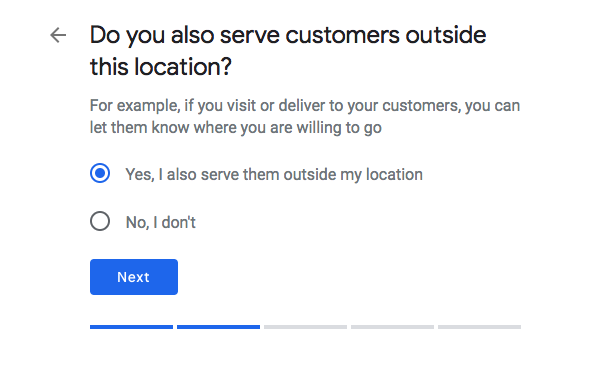 And then add in the zip codes that you deliver to.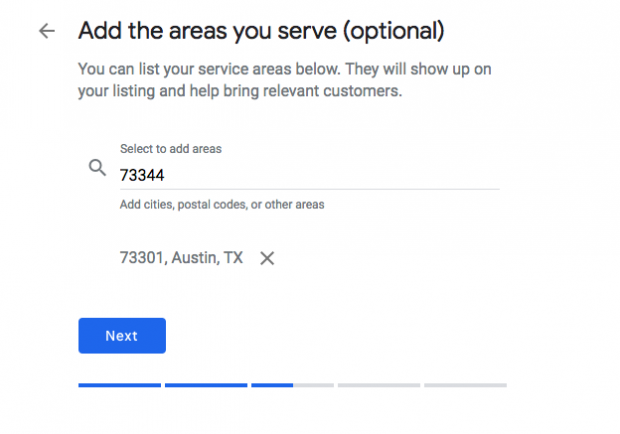 Step 6: Select a business category
Here, it is really important to get as accurate as possible in the business category that you select. This tells Google what specific customers should see your Google My Business.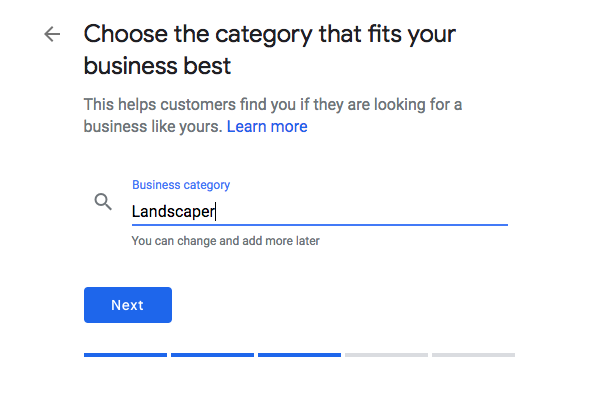 Step 7: Tell customers how they can get in touch
Now, just add in your business's phone number and website so they can give you a ring or learn more about you online.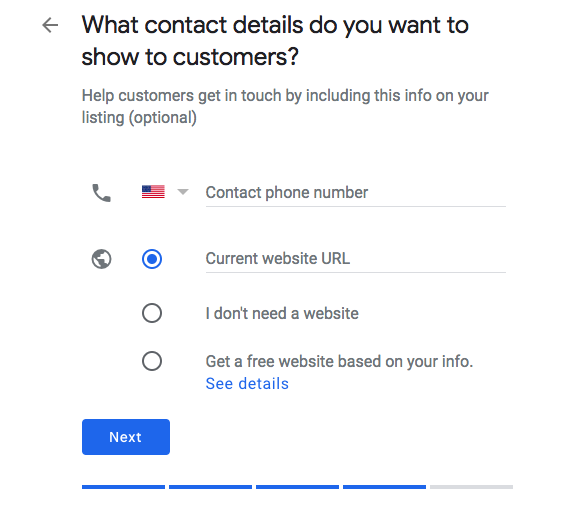 Step 8: Verify your Google My Business account
*See next section
don't feel like doing all the work yourself?
CLICK HERE to Take advantage of our 100% free gmb presence optimization
allow an expert to take over and get your business where it needs to be!
How to verify your business on Google
There are a handful of ways for you to verify your Google My Business account…
Via phone

Via email

Via postcard

In bulk

Instantly
The easiest (and most likely way) that you will be asked to verify your business will be via postcard, especially if you're opening up a Google My Business profile with a physical location.
Please understand that verifying your business is an essential step in opening up a Google My Business account. Google will not display your listing until your business has been verified. Here's what verifying via postcard, phone, or email will look like…
Step 1: Sign in and choose a business to verify
If you're not already logged into your Google My Business account do so and select which business you would like to verify. If you've been setting up an account as you've been reading this article, you will already be at the verification process.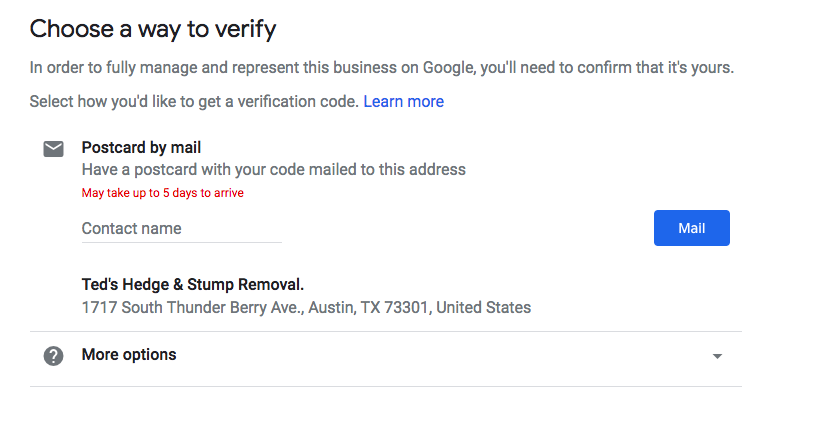 Step 2: Double-check that your business address, phone number and/or email address is correct and add a contact name
Everyone makes typos. Make sure your business address, phone number and/or email address is correct. Double check it. Triple check it. Also, be sure to add a contact name that Google can address the postcard to.
Step 3: Choose how you would like to verify your account
Now, choose how you would like to verify your account. We've written directions for the three most common ways down below. Pick your poison.
By Mail
If you'd like to verify by mail, simply hit the big blue button that reads "Mail" and be on the lookout for your very own postcard from Google. Remember that this can take up to five days. So, be patient.
When your postcard arrives in the mail, log into your Google My Business account and select "Verify Now". In the code field, enter the five-digit verification code on your postcard.
If your postcard never arrives. It's all good. Just sign back into your Google My Business account and click the big blue banner at the top of the screen reading "Request another code."
By Phone
If you'd like to verify by phone, choose "verify by phone."
Again, if you have clumsy thumbs, be sure that your phone number is correct before attempting to verify.
Once you hit verify, you will feel a buzz. It's both a headrush and a text from Google sending you a verification code. Simply enter the verification code and you'll be all set.
By email
If you'd like to verify by email, choose… yes you guessed it… "verify by email."
From there, navigate to your email inbox and look for an email from Google My Business. In this email you will find a magical verification button. Click said button and you will be verified.
3 ways to optimize your Google My Business profile
Since Google My Business is a free tool, sometimes businesses are less incentivized to optimize it. For some reason, when something is free, it quickly falls down the list of to-do's to… I'll get to it eventually.
Here's the deal, your Google My Business profile will only be as powerful as you allow it to be. To really make it work for you, you have to optimize it. Below you will find a few ways to do just that.
1. Download the Google My Business app
Your GMB profile should be viewed like another social media account. It should be a living breathing extension of your brand. There's no need to waste time fussing with your laptop to make changes or updates to your GMB profile, instead just download the app. This will make it easier to add pictures, post statuses and respond to reviews.
Which, speaking of reviews…
2. Encourage your customers to leave reviews (and be sure to respond)
While I was in Detroit, something else I noticed was that businesses constantly encouraged their customers to leave them a review on Google. They did this for two reasons.
For one, customers trust reviews. BrightLocal a local marketing firm based in London conducted a few surveys that had some impressive takeaways. Their research found that 91% of consumers regularly check online reviews and 84% trust them as much as a personal recommendation. So, the more positive reviews you have on your Google My Business account, the more business you will drive.
Additionally, the companies with the most positive reviews will be pushed up in the search ranking. Your goal should be to land within the high-visibility panel. You can achieve this by collecting plenty of positive reviews.
3. Upload clean, crisp photos
If you apply anything from this section, please please apply this… photos sell. In fact, Google found that businesses with photos receive 35% more clicks to their websites and 42% more requests for driving directions than businesses without them.
While it might cost some money, I would highly recommend hiring a photographer to take some clean crisp professional looking photos of your storefront, your interior and whatever product or service you're selling.
Every day, more and more businesses are making the jump to create a Google My Business account. Unfortunately, only a select few in each city are putting in the ongoing work it takes to create a profile that gets noticed and ultimately gets them more customers. That presents a beautiful opportunity for you.
don't feel like doing all the work yourself?
allow an expert to take over and get your business where it needs to be!
to setup your FREE GMB LISTING,
or get a FREE SEO REPORT
& see why we come so HIGHLY RECOMMENDED
get your FREE GMB presence,
& get a FREE SEO REPORT
& see why we come so HIGHLY RECOMMENDED
fill out the form below
& a meatballer will be in touch!
fill out the form below
& a meatballer will be in touch!